Welcome to Arcade.Grugel.com
NOTICE: We are out of stock and no longer able to get the parts from our supplier.
These boards are no longer for sale until further notice.
This page is for informational purposes only!

Our boards have been used in the following applications as well as others:




Pole Position Wheel




Arkanoid Spinner




Atari Trackball




Happs (non-usb) Trackball




Tron Spinner


Tempest Spinner
Home Made Spinners
Centipede Trackball
Millipede Trackball

Here is an excelent informational page all about optical boards from zumbrovalley.net:
http://www.zumbrovalley.net/ArcadeOptics/

Prices:
SPINNER MODE

(connector opposite side from optics):
Optic board with header and prewired connector (Style #1):

$9.00 each
Optic board with header but without connector (Style #2):

$8.00 each
TRACKBALL MODE

(connector same side as optics):
With the header on the same side as the optics, these boards will also work in most trackballs. They have fit in all of the trackballs we've been able to test them in. They fit Atari style trackballs unmodified and will fit Wico and Imperial trackballs if you sand or cut them to the white lines on the board.
Note:
Because these boards have a spinner circuit you will have to reverse the signal wires to use them in a trackball. You can also rotate the trackball 180 degrees if that is easier. Otherwise the directions will be reversed from a standard trackball board.
Trackball style with header and wired connector (Style #3):

$9.00 each
Trackball style with header but no wired connector (Style #4):

$8.00 each
GENERIC MODE

(no header or connector):
Optic board without header or connector (you add header or solder wires directly to board) (Style #5):

$7.00 each
MOUNTING HOLES:
Add mounting holes to any board for $1.00 per board.


Note:
$1 price is for generic mounting hole locations (near all 4 corners of the board - the white dots in the pictures). Please contact us for a quote on holes pre-drilled to your specifications.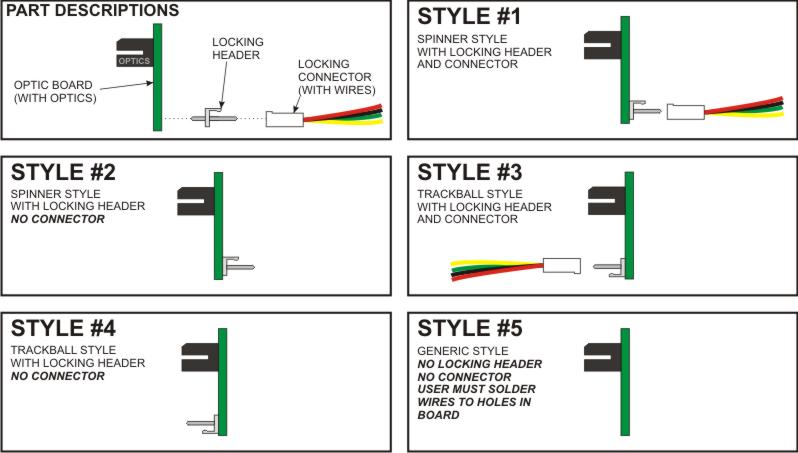 SHIPPING:
We will ship these well packaged via priority mail for $5.00 per order (not per board) so order more to save on shipping.
We make these to order so let us know if you have any questions or special requests.
Ask about quantity discounts on orders of 4 or more boards.
To order please contact me at:

arcade

@grugel.com